Welcome to Uptown Cafe and Catering
Welcome to Uptown Cafe and Catering
Home of the famous Uptown Smoked Salmon. To order yours for shipping to family, friends, and clients for the holidays go to www.uptownyum.com. You are always welcome to come during regular business hours to purchase your salmon too! Enjoy.

Our highest priority is the health and happiness of our team and our customers.
We are currently offering the following services. Enjoy your Uptown experience!

We are open Tuesday through Saturday 7 am to 3 pm and Sunday 8 am to 2 pm.
We will be closed for Thanksgiving and the day after so that our team can be with their families. We are very grateful for our amazing customers and wish you and yours a very Happy Thanksgiving! See you Saturday November 26.


We are hiring! Apply in person ONLY from 1-3 pm weekdays.
Please follow us on Facebook for specials, announcements, and more!
HOW TO ORDER
QR code menu:
PICKUP SERVICES
Call ahead at 850-219-9800 to place your order.
Or order when you arrive. We have safe outside areas to wait while we prepare your food to order. See our brunch menu here
DELIVERY SERVICES
CALL UPTOWN 850-219-9800
GRUB HUB or
TABLE SERVICE
We are happy to be able to provide table service. Seating is separated for your continued safety.

ENJOY CRAFT BEERS OR MIMOSAS WITH YOUR BRUNCH!
MORE DELICIOUS OPTIONS 
GIFT CARDS
Purchase a $60 gift card for $50! Use it now or later, give as a gift, donate it, share the love. Call 850-219-9800 to order yours. You can pick it up or we can mail it.
UPTOWN SMOKED SALMON
Very popular especially for holidays and celebrations. Can be picked up at Uptown any day, or order for delivery at www.uptownyum.com  We are offering smaller sizes for smaller needs this year. 
GROCERY PICK UP
In an effort to make your lives a little easier we are offering grocery staples for sale to pick up. Eggs, bacon, coffee, milk, plus prepared items like tuna or chicken salad, roast turkey breast, and don't forget the cookies!

Thank you for supporting locally owned businesses!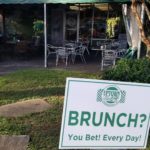 Have an Uptown Day