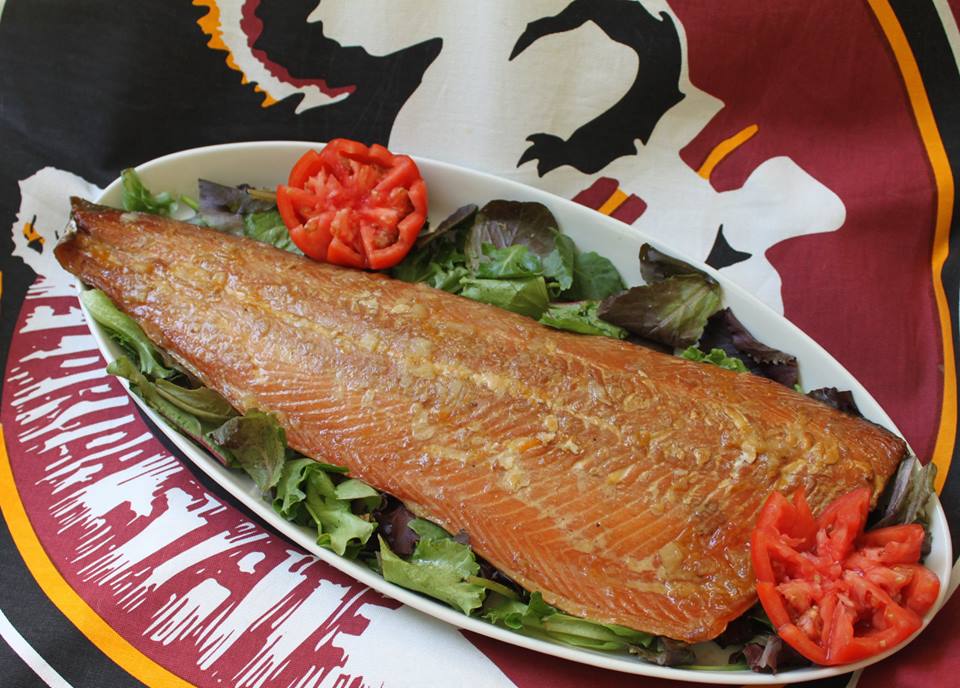 Click here to order online at UptownYum.com
Our Uptown Cafe Apricot Glazed Smoked Salmon is available for pick up or to ship!
Uptown Cafe Smoked Salmon are sold by the pound.
Come by Uptown Cafe during regular business hours to pick up your Salmon today
To place a large order please call Fred at 850-219-9800 or email fred@uptowncafeandcatering.com
We ship our Smoked Salmon throughout the US. Go to uptownyum.com
We began offering our special smoked salmon in 2008 at holiday events and the demand for it grew quickly from there. It started with one small smoker, smoking 15 pieces at a time to our present big daddy smoker that smokes 60 at a time.
As you may well know the price of wild caught salmon is exorbitant and continues to rise. We've found a product from Chile that is "open water" raised and is as close to being wild as possible without the wild salmon price tag. They are raised out in the Pacific Ocean with the Humboldt Current carrying rich nutrients from Antarctica along the coast, and then flown in fresh to us.
The Salmon is cured over night, smoked with Apple and Hickory wood. During the smoking process we baste the salmon with our Apricot glaze. That's the secret (Wink).
The Uptown Cafe Apricot Smoked Salmon is vacuum sealed and retains its flavor for weeks even after opening. There are no additives, nitrates, MSG, or coloring. It also freezes well and thaws out quickly for consumption.
Uptown Apricot Smoked Salmon is very versatile for all occasions. From football tailgate parties to wedding receptions, family dinner, to a quiet evening with a friend and a bottle of wine, or a quick meal on the go. We like it on a bed of salad greens in the evening for a light healthy meal.
For any occasion Uptown Apricot Smoked Salmon will please you and your guests, and keep them coming back for more.
Thank you for your business and your continued enjoyment of this excellent product. It is our pleasure to be able to share this with all of you. Enjoy and eat healthy !!